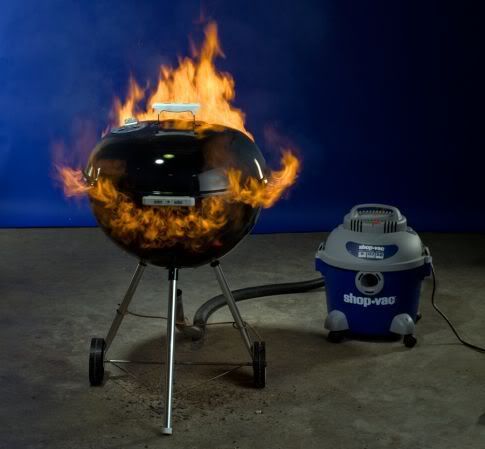 courtesy of weber
Every so often, my collection of grills and smokers expands. Sometimes by twos and other times by threes. I have 8 cookers total but by far my most favorite one...... is my good ole trusty
Weber
kettle.
The kettle is so versatile that you can grill, roast, BBQ and even smoke in it. By itself, the kettle is very plain. It has no table, no chairs, no bottle opener, or anything of the sort. So, what i have done is designed my own table to suit my needs. The table will have a cut out so that i can either slide my weber kettle into the slot or the UDS (drum smoker) will be able to fit into the slot. Think of a table and cut a "U" shape out of it. Make the radius 12 inches. That way the standard UDS and kettle can fit in it with an inch of room to spare.
I drew up a model in Google sketchup to see how it would semi look on this planet. I tried to make it as realistic as possible. I drew it to scale and made sure that all dimensions were accurate. I do not have autocad, though i have lots of experience with it, so i use what i can get my hands on.
I started the table a few days ago. It is 90% complete. I just have to add the table top and the burners. It has been primed and is now ready to paint.
Here a few pictures of the total progress:
It is not complete yet but this is the progress so far. It has been an awesome project to work on with my dad, who, in case you are wondering, really does play Good Ole Saint Nick every year for Christmas.
My dad worked for the State so he was able to get his own road signs made. There is a famous street where i live called "State Street" For the last 60 years people cruise it with the hot rods and rice burners. Well a few years back, they made it a law that you could not go down the street more than 2 times in a 6 hour period. You can see the sign hanging up that says No cruising zone.