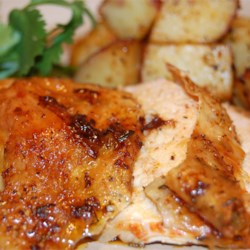 I have a quest in life. And thats to find a roasted chicken that tastes like one from the supermarket. Some say that this one tastes better, but i still think walmarts rotisserie chicken is the best hands down. Its either because its supper salty or super lemony or both.
This recipe is pretty dang good. I call it sticky chicken but oven roasted chicken sounds more appealing. It is fairly simple and easy to make. The key is to have very dry skin before you cook it. Chicken skin wont crisp if it is wet or moist. You must first use paper towels to dry the skin.
INGREDIENTS
1-2 teaspoons salt
2 teaspoons paprika
1 teaspoon onion powder
1 teaspoon dried thyme
1 teaspoon white pepper
1/2 teaspoon cayenne pepper
1/2 teaspoon black pepper
1/2 teaspoon garlic powder
2 onions, quartered
1 (4 – 5 pound) whole chicken
4-5 cloves chopped garlic
2 TBS olive oil
OPTIONAL. You can use 4 – 5 TBS any dry rub from Weber or McCormick seasonings.
DIRECTIONS
In a small bowl, mix together salt, paprika, onion powder, thyme, white pepper, black pepper, cayenne pepper, and garlic powder. Remove and discard giblets from chicken. Rinse chicken cavity, and pat dry with paper towel. Baste chicken with olive oil all over the skin.Rub each chicken inside and out with spice mixture. Place 1 onion and garlic into the cavity of each chicken. Place chickens in a resealable bag or double wrap with plastic wrap. Refrigerate overnight, or at least 4 to 6 hours.
Preheat oven to 375 degrees F or 250 for fall off the bone goodness.

Using an empty soda can and a beer can chicken roaster. Slide chicken onto soda can and place on rack right below center. Place a drip pan under the chicken and bake for until breast reaches at least 180. Basting as needed. You can place directly on the cooking grate of a outdoor grill if needs be. You can also roast in a roasting pan and baste every 30 minutes